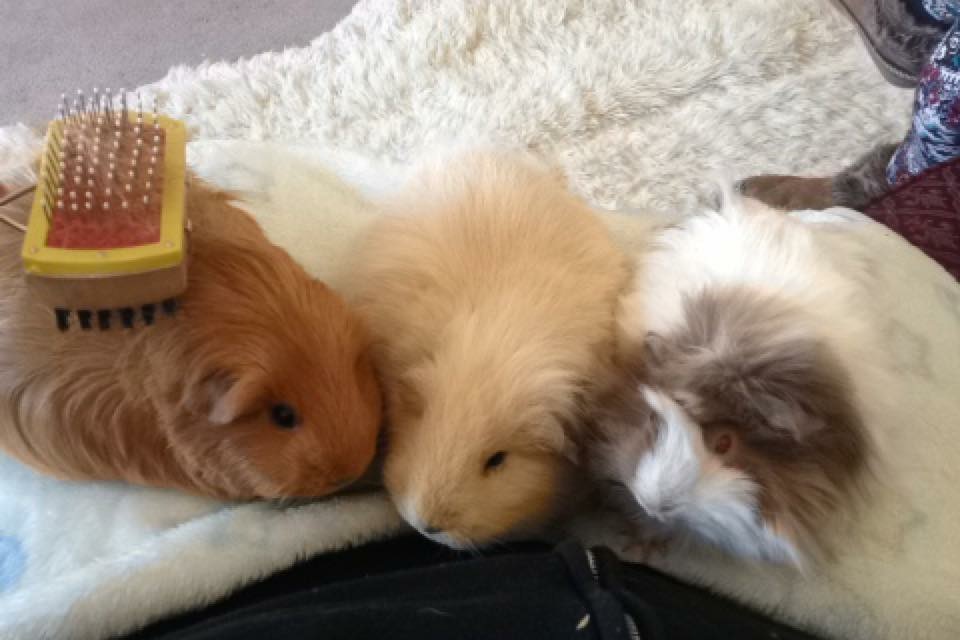 grooming3girls
+
Please take a few moments to acquaint yourself with our Caviary policies before inquiring about any of our guinea pigs/bunnies for sale. Then, you may submit your adoption application at the bottom of the page if serious about purchasing one of our babies. If you have any questions at all, don't hesitate to email us at email@bychancecaviary.com
"We" and "Us" refers to myself, Betty, and my mom, Penny, who occasionally joins me in my madness! I'm a former 10 year Veterinary Assistant and have managed/operated several breeding programs in the past; approximately 10 years of which has been dedicated to Guinea Pigs! I raised Guinea Pigs in my late teen years while living at home. I then purchased my own home in the country, and focused on my Rabbitry, Kennel and Cattery; breeding Boxer dogs and Persian cats. After several years, I downsized and moved to an apartment in Bangor, Maine. Having always had a true passion for genetics and animal reproduction since the age of 8; my life was incomplete without working with some type of breeding program! I'd considered the programs I'd had in the past but ruled out all of the critters as they weren't conducive to apartment living. Then, a former veterinary co-worker contacted me to place her 2 girl guinea pigs. Well- the "girls" had a beautiful litter 6 weeks later! I quickly remembered how awesome piggies were; their great easy going demeanor, adorable wheeking, no climbing/tunneling/jumping/gnawing... Needless to say; Chaz and Chantilly became our foundation piggies and started the aptly named By Chance Caviary est 2015! We've since expanded from just Guinea Pigs and now offer a variety of premium quality Pocket Pets. I incorporated select rabbit breeds in 2016. In 2018 I added Hedgehogs and Fancy Rats in 2019.As Guinea Pigs are our primary focus, we've decided to retain the name By Chance Caviary.
HOUSING
We use spacious C&C enclosures as our primary housing as well as Midwest Guinea Pig Habitats and large Marchioro caging. The C&Cs provide endless possibilities and space adjustments, and are therefore the most preferred. I also use a variety of solid bottomed cages for raising bunny litters.
BEDDING
We've used every bedding under the sun; fleece, Carefresh, Yesterday's News, Aspen, Woody Pet- to name a few. We've found none offer as much odor control, moisture absorbency or cost effectiveness as wooden shavings and pellets. Pine shavings are controversial in that some claims have linked the phenols in pine to respiratory distress and/or filter organ malfunction; although not proven. Kiln dried pine supposedly obliterates these risks. I've used pine for 20+ years now with a variety of pets and have never experienced any known adversities to this bedding; nor have my breeder colleagues.
FEEDING
Our pigs' staple diet is fresh Timothy hay and Blue Seal Guinea Pig pellets. Our Bunnies are fed primarily Bunny 16 from Blue Seal with Show Supplement. We also add Oxbow, Sunburst and other premium brands for variety and additional nutrient content. We give a variety of hays to our hay eaters such as Orchard Grass, Meadow Hay, etc. Our babies receive fresh daily veggies, greens, herbs; and fruits a couple times per week. Moms and babies are oftentimes supplemented with alfalfa hay, oats and gruel if a boost is needed. We also give occasional commercial treats. Hedgies receive various brands of premium cat food with occasional fresh foods; veggies, chicken, etc. They also get dried insects such as mealworms, crickets, etc. Our ratties get a homemade rat diet with a wide variety of foods including seed, cat food, dried pasta/cereal, fresh foods and whole table foods (chicken, eggs, peas, etc.)
GENERAL CARE
All receive bedding changes every 1-2 days; with complete cage "strip downs" (disinfecting huts, toys, bowls, coroplast, etc) approximately weekly. At least 2-3 times a day, they receive fresh water changes. We often add Vitamin C supplements to their water for immunity boosters. Our babies are held and socialized daily; with handling on laps, in hands and lots of petting! All of our babies receive baths and nail trims as needed and right before going off into new homes. Our adults get rotating "lap time" and "free range" both sitting on laps for handling, and in a pet-proof room for romping. We groom all as needed; with Peruvians, Silkies, Coronets and Texel guinea pigs or our Angora and Lionhead bunnies being more frequent due to their longer coats. They are raised directly in my home and are very accustomed to frequent vacuuming, hustle and bustle of daily life, and my Persians. Of course, our pets receive lots of environmental stimulus/chew treats including new chews; Timothy twists, Alfalfa blocks, Wooden toys, etc. They also receive a variety of toys like plastic balls, toss toys, etc. Hiding places are critical to their security and well-being. Therefore, we have an assortment of pigloos, mini barns, sleep-houses, fleece pouches, etc for privacy.
PRICING
Our babies' prices are determined by many factors; pedigree, breed, availability, coloration, markings, overall type according to breed, age, etc. We ask a very reasonable price for our babies considering all of the expenses/planning involved to produce a specific baby as well as the aforementioned factors. We've had a few inquirers state that they can find a baby pocket pet for free or $5-$10. More often than not, these same people contact us again stating they regret getting that baby and asking for advice regarding their current pet's issues. Proper and serious breeding doesn't just mean producing more of a species. There is a substantial amount of expense, planning, time, effort and labor involved in producing well-bred, superior pets. We invest a lot into our "breeding stock" (all of which are named and known on an individual basis.) We specifically use animals in our breeding program which were carefully selected upon the same criteria we wish to duplicate and improve upon. We purchase only the finest materials; caging, bedding, accessories, nutrition, etc for our babes. Many litters were planned months or even years in advance. We breed for health, temperament and longevity first and foremost; but physical beauty is also a priority. In addition to spending countless hours socializing and caring for our pets, we also answer endless emails; not only from past, present and future buyers, but also from people simply seeking help and advice. The Caviary owner, Betty, has 24 years breeding experience; 10 years as a Veterinary Assistant. With all that we invest, our prices are actually quite reasonable. Below indicates a ROUGH guideline for most of our pricing according to breed. Again, many variables play a role.
GUINEA PIGS
Abyssinians: $75+ Americans: $65+ Coronets: $85+ Cresteds: $65+ Lakelands: $85+ Peruvians: $125+
Ridgebacks: $125+
Silkies: $125+ Skinnys: $200+ Teddys: $85+ Werewolf Skinnies: $175+
BUNNIES
All breeds start at $100 and up.
HEDGEHOGS
All varities start at $350.
FANCY RATS
Standards: $15+
Dumbos: $25+
Hairless: $45+
OUR POLICIES
Our pets are not available to everyone and anyone whom may inquire. We invest a substantial amount of time, effort, care and finances in ensuring we are producing only the healthiest, sweetest and most adorable pets possible. These pocket pets are our babies, and we ONLY adopt them out to approved, knowledgeable, forever homes intending to keep them for life. They are not a children's toy, fad, or impulse buy. They are living creatures and a 3-10+ year minimum commitment depending upon species. While they do make excellent companions for kids, parents must supervise their care and handling. They have impeccable dispositions and virtually never bite. You do not have to be an expert to acquire any of our darlings; you just must be willing to educate yourself. I'm always available for support and to coach you along the way! I like to maintain ongoing communication with my adopters and ask to receive updates. This is important in tracking the health and temperament of my lines. Plus, I simply just want to know how they are doing in their new homes!
1.) All are sold as non-breeding PETS ONLY unless purchasing with breeding rights. There are plenty of these little guys in the world. Therefore, they should be bred carefully and very selectively. We will never sell male and female to the same home without promise that they are to always be housed separately and not bred. 2.) We require new owners to notify us if for whatever reason they are unable to keep their BCC baby. We reserve first right of refusal to re-obtain a baby we produced/adopted out.
3.) Our critters are raised right in our home very small scale. We usually only have a few litters every couple/few months. We operate a CLOSED CAVIARY. This means adoptions do not take place in our home nor may interested parties come to our home to view pet. This is the safest for everyone involved for a wide variety of reasons such as the potential of introducing foreign pathogens to our herd, etc. Additionally, you will not get a feel for a pocket pet's personality by an initial visit. They take time to acclimate to new people and surroundings. If you seek certain characteristics in your pocket pet, please let us know and we can best match you with a pet since we know them all individually. All adopters must be willing to meet at a public location in the Bangor, Maine area to pick up their baby.
4.) We hold weaned animals for up to one month with a $30 fee per pet plus half of the animal's purchase price down as a non-refundable deposit; remainder due upon pick up. This helps to cover costs incurred while in our care. We will do everything in our power to keep them as safe, healthy and pristine as possible. Please understand that they're living creatures; and much like children, they oftentimes rough house with buddies during play. Occasional bumps/scrapes can occur with wrestling youngsters! Nursing babies can be reserved as early as 10 days of age with deposit. No fee is involved unless adopter wishes for us to hold beyond weaning date. Deposits & all fees/monies are *ALWAYS* non-refundable and are non-transferable unless in the rare case the chosen pet is undeliverable by us; in which case you may select another. We are able to accept Paypal, Venmo, or check/money order via snail mail for deposits. Final payment must be made in the aforementioned methods prior to pick up or in cash upon pick up. We absolutely cannot hold anyone without some type of deposit; each time we flex on this rule the adopter backs out, even if they've 100% assured us they will be adopting chosen babies. We will put a temporary hold for up to 3 days if a pick up is scheduled, since there is a chance a deposit may not be received by us via snail mail in that duration.

5.) Bunnies, Guinea Pigs and Rats are extremely social herd animals and do best if housed in same sex pairs or groups. We highly discourage adopting singly. While some have successfully kept singly in the past, many cases have been reported of them becoming stressed, depressed or developing behavioral problems if kept alone. They form a dynamic social structure and hierarchy. No amount of human interaction can replace the companionship of another cage mate.
6.) We take every precaution to produce only the most sound and healthiest pets possible and regularly use parasite preventatives. Unfortunately, no matter the high quality of husbandry or care, the possibility for issues may arise. We cannot guarantee the health once they have left our care. It is simply too easy for them to pick up pathogens once outside of our home. Some very common issues include mites/lice, URIs, fungal infections, bites/scratches from others, ear tears from sharp nails, etc. Fortunately these are usually all curable/treatable and/or minor nuisances with the rare exception of severe cases. Therefore, all sales are final and pets are sold on an as-is condition with no ongoing health/behavior guarantee.
7.) If you are bargain shopping for a "cheap" pet, please continue your search. We invest immense amounts of resources into this hobby to produce supreme pets at a very fair asking price. Each month, hundreds of dollars AND hours are spent caring for them, advertising, and interacting with adopters; past, present and potential. Depending upon availability, we oftentimes offer monthly specials, rate reductions or free gifts with purchases. Most people just do not realize how expensive this hobby is; if you are breeding responsibly and cautiously, that is. Most of these "cheap" pets found online have been produced by poorly educated back-yard breeders whom simply breed for the fun or to make a buck. Any well run caviary/breeding program could not operate on such trivial adoption rates unless they were making some serious cuts in care.. or are for some other reason quite rich! These animals are rarely, if at all, profitable- when bred correctly. Guinea Pigs gestate for approximately 10 weeks; longer than a dog or cat, and our lines usually average 2-3 pups per litter; single births are also quite common. Bunnies take several months to mature, and contrary to popular belief, don't always "breed like rabbits." In fact, it's quite the opposite. We've experienced many mismatings/unsuccessful breedings. Most bunny litters are over a year in the making! They may be reluctant breeders, poor moms, or birth only a few kits. Use caution when looking at alarmingly low priced babies. Chances are little to no regard was paid to their health, the mom's health/wellbeing, or genetics. There's far more to producing quality babies than throwing a male and female together!

8.) Adoption contracts are under construction. Policies may be adjusted/added to so please check back prior to considering adopting one of our gems.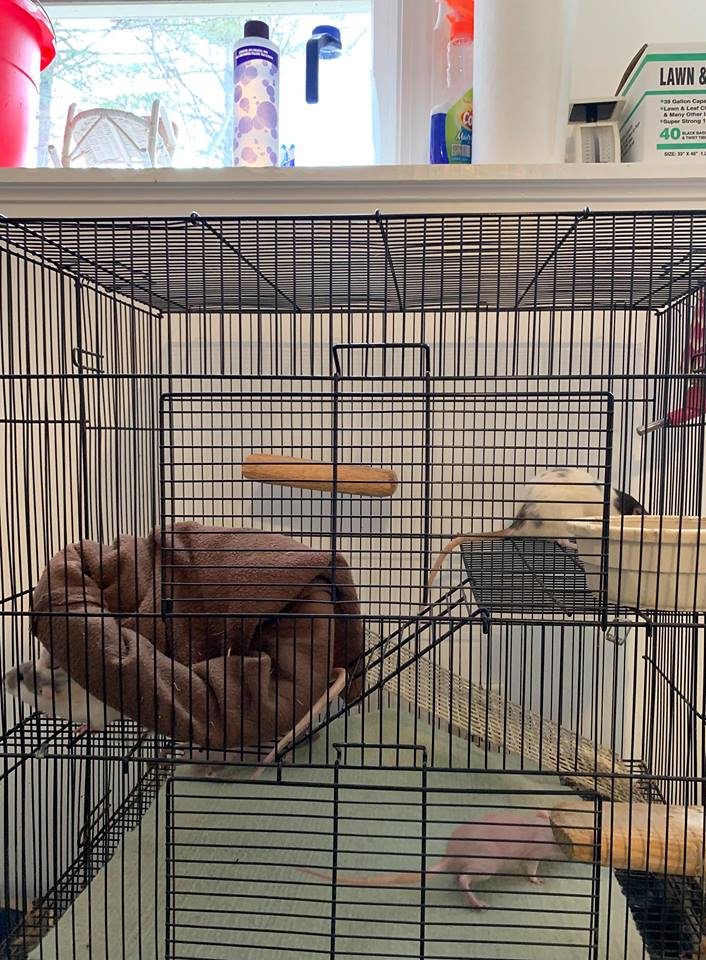 Our Ratty girls enjoying their new enclosure we are establishing.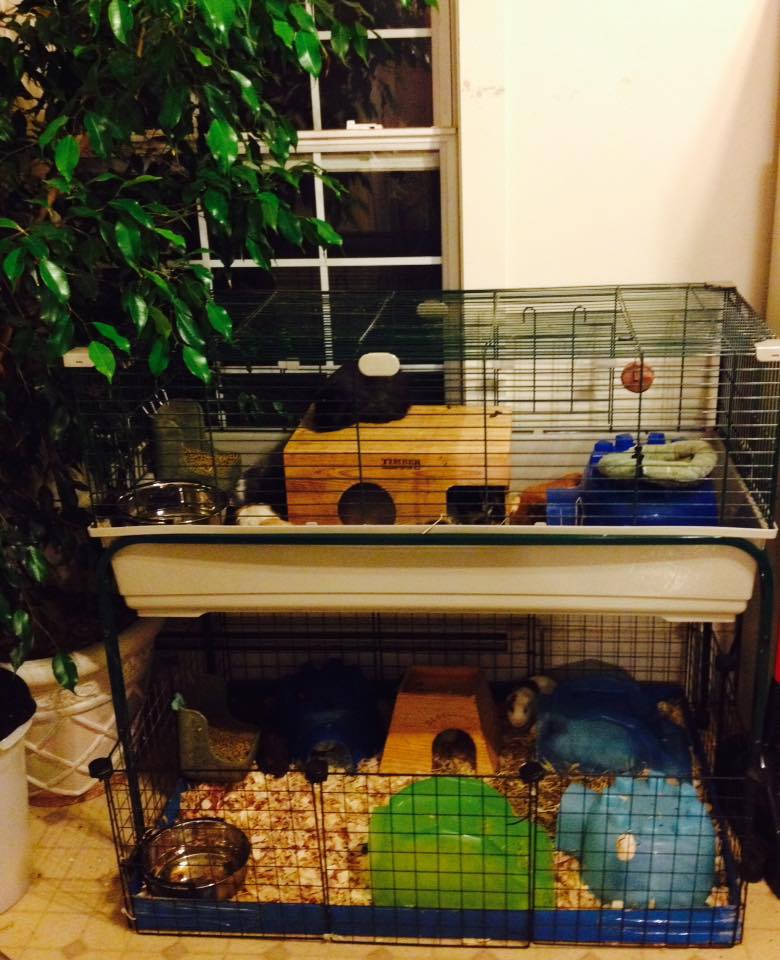 boys
+
A couple of our boy enclosures; a large Marchioro atop a C&C